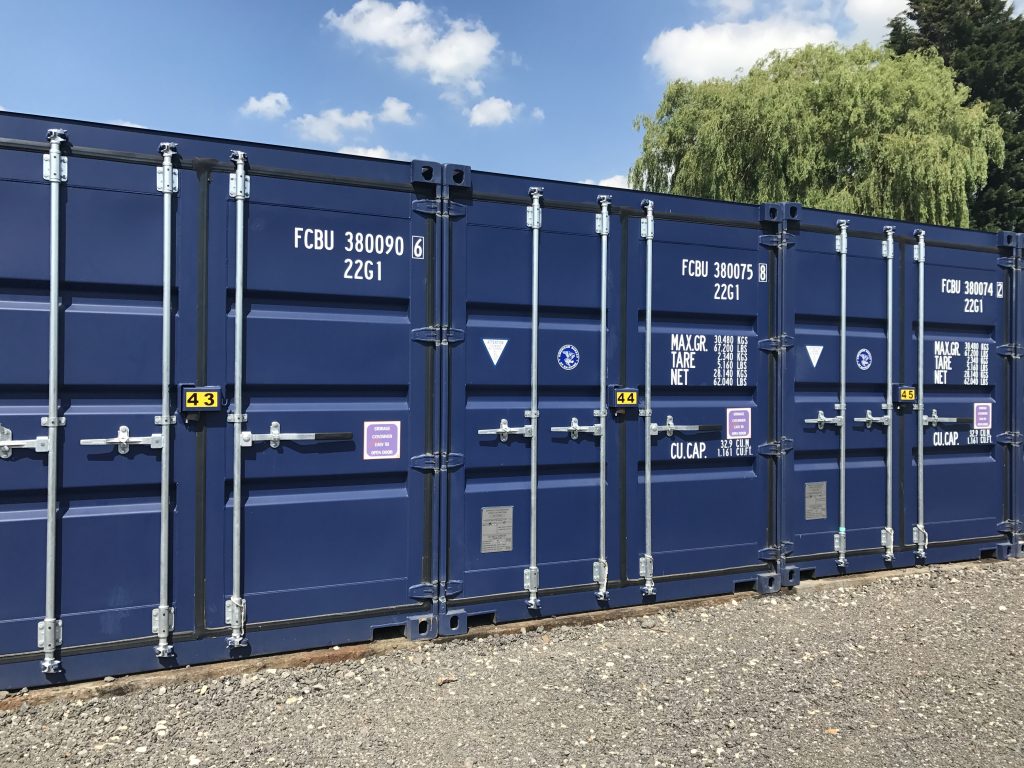 More and more people and businesses are choosing to put their things into storage when they are moving, downsizing – or simply in need of some extra space.
Making use of storage solutions can have a number of benefits, not least of which is helping to reduce the stress of moving day if you're between homes. But with various options out there, it can be difficult to know which type of storage is the best for you. Here is some information about different types of storage. There is a checklist at the end to help you ask questions when phoning around for quotes.
'Container Storage' – At anglia self storage all our storage containers are ground level and outdoors. There are lanes between the rows between the units so vehicles may be parked at the unit doors for easy loading – even large removal lorries have plenty of room. The units themselves are new or 'one-trip' sea containers. Made from steel, these containers are fire-resistant, very strong and secure. This eliminates any risk of customers losing their belongings in a fire.
anglia self storage insulates their unit ceilings as a precautionary measure and are 100% watertight. We supply you with a heavy duty padlock, key and gate pass, all included in the price. You will not need to buy a padlock from anglia like at some facilities.
'Warehouse storage' or 'indoor storage' usually offers managed storage for your possessions, either in a purpose-built facility or inside a converted building. Often, access is limited to within working hours or an appointment has to be made in advance so the customer's 'wooden storage crate' can be fork-lifted down to an accessible level. Storage units, can sometimes be housed on different floors and are linked by a series of lifts. You may need to take your belongings to the unit on a trolley.
CCTV – Most storage companies will advertise having CCTV, however it is important to check if this is 'monitored' CCTV, rather than CCTV which is simply making a recording. anglia self storage's CCTV is monitored live by our security team – this is very important if security is important to you, as it means action would be taken immediately if security was compromised.
Flexibility of terms – Some storage facilities may require a minimum of 4 weeks storage from you, some request up to 6 months paid in advance. At anglia self storage we do ask you to pay up until the end of the current month but upon vacation we will refund any days that you didn't need. The minimum length of storage with us is just two weeks.
… If you need extra storage space, whether it's short term or longer get in touch to find out what our best storage options are for you. anglia self storage have small compartments if you just have a few belongings and 40ft long containers if you need to store the contents of a six-bedroomed house! Plus many sixes in between.
We'll happily show you around our central Lincoln site – with covid precautions of course.
STORAGE CHECKLIST
Will I have 24/7 independent access to my storage unit anytime or do I have to make an appointment to access my belongings?
Is the CCTV monitored 'live' by a security team?
Are the storage units fire-resistant and insulated?
If I leave early in a 4-weekly or monthly term will I get a refund for unused days?
Will I need to buy or supply my own padlock?
Is there space for me to park at my unit or turn around a van?
Will I need to climb stairs or trolley my belongs to the storage unit?
Lastly, some storage facilities may be cheaper than others. Therefore, remember to ask yourself, is it a 'like for like' comparison? For example, one storage company's MEDIUM sized unit may be a different size to a MEDIUM unit elsewhere.