During summer 2018 anglia self storage has provided more secure storage spaces for University students than ever before!
Exams finished, and final shows taken down, now's the time when students are packing up and going home for Summer. A great majority of Lincoln's students are from overseas or other parts of the UK – so where do they put all the stuff they've hoarded during the year? Simple answer – anglia self storage. Our site is secure, conveniently located in central Lincoln and we also have a van which can collect students' belongings.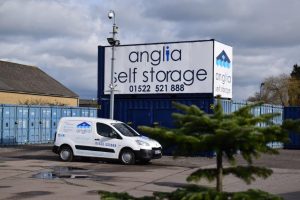 Student storage at anglia is very affordable  – our cheapest shelf storage starts at just £6 per week, and a tall unit 2.4m high! (which some students share), just £15 a week. Bargain.
Benefits of using anglia self storage over the vacation :
1. Cost and time effective. Student storage starts from £6 a week.
2. Anglia self storage is only 0.6 miles from Lincoln University campus, a 10-15 minute walk, or an easy drive on the new East/West Road.
3. Our anglia van can collect and deliver belongings for a charge of £25.00
4. Storing at anglia over the vacation saves parents driving to Lincoln or hiring a vehicle – and also saves space back at home.
5. Security at anglia self storage is excellent and includes monitored CCTV, electronic gate and secure units. Students' belongings are kept safe until their return the next term.
6. Overseas students can go home with minimal baggage.
7. No deposit payable.
What are you waiting for?