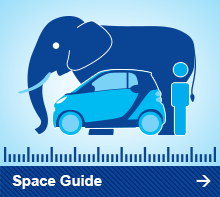 Testimonials:
"Very friendly and helpful, well informed staff, nothing is too much trouble"
D. Jackson
"As we were going abroad for two years we wanted to know that our belongings in store would be safe and well looked after. As we have now returned I can confirm this was the case and we are happy to recommend anglia to anyone in a similar position"
Mr & Mrs M Harker
Testimonials:
"I was happy that my precious Harley Davidson was well looked after while I was serving abroad"
Flt. Lt. A.G.McC
"We used anglia whilst having extension work carried out on our house in SW London. Their competitive rates offered a big saving over London prices"
R.T.
Testimonials:
"It was really useful to be able to store bulky items while we were doing major work on the house and I'm sure helped us get it finished on schedule"
Mary S.
"In a nutshell anglia self storage offers security and flexibility - lovely staff too"
GB & NE Wright
Testimonials:
"As the storage needs for my business fluctuate I find it useful to be able to upsize or downsize containers so I am not paying for space I don't need"
Steve
"When we decided to move to Lincoln anglia provided a secure storage space for our belongings. It enabled us to spread our relocation over a period of time, rather than adding to our stress on completion day!"
L Andrews
Testimonials:
"We are letting our house while living in Moscow and wanted to put the contents into storage while away. anglia recommended we use Steve's Removals to deal with the move for us. We were very happy with the removal service and are confident that our belongings will be well looked after by anglia"
N. Langford
"24 hour access is essential to our business as we can be called upon at any time"
FCS Ltd
Testimonials:
"I can wholeheartedly recommend anglia to anyone needing storage; excellent service"
"anglia self storage gives us total customer satisfaction - nothing is too much trouble. Being able to access their secure site in central Lincoln 24/7 is invaluable to our business. Second to none!"
Goodyear Dunlop
Testimonials:
"Your high level of security did give us peace of mind during our house move"
Mr & Mrs JG Crawford
"anglia enables us to recover space in our own premises. We know our archives are kept safe and secure and we can access them anytime should we need to"
Lincoln College